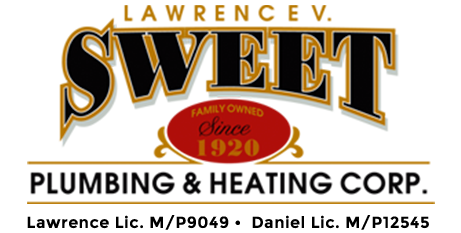 RESIDENTIAL
& COMMERCIAL
Plumbing, Heating and Cooling
Main Office Number: (781) 862-1387
Emergency Number: (781) 553-0568
48 Woburn St.Lexington, MA
Lawrence Lic. M/P9049 • Daniel Lic. M/P12545
Natural Gas Lines
If you need natural gas lines installed or repaired, Sweet Plumbing & Heating Corp can construct a new one or retro-fit your current line. We are aware of the delicate safety matters involved in gas lines and our experts know how to safely and quickly get the job done.
Water Heaters and Wells
We can put in a gas, electric, or tankless hot water heater. We'll help you find the best choice for your home. We also install well pumps and repair wells in any home.
Sewer Lines
Sweet Plumbing & Heating Corp uses video inspection to diagnose problems and then jet the drains with pressurized water to clear and restore the lines. If complete replacement is needed, we can do that as well.
Clogged Drains
Is your sink, shower, toilet, or tub always backing up? We can unclog them and then determine if more work is needed to keep it from happening again.
Backflow Protection
Sweet Plumbing & Heating Corp knows you might need to keep non-potable water from back flowing into your supply and we can install, test, and certify these protective devices.
New Construction
Solutions Adding on a room or building a new home? Sweet Plumbing & Heating Corp can provide all the plumbing you need for the new space. We can help with plans and ideas and we test everything for code regulations.
Re-piping
Lead, polybutylene, or sediment-filled pipes can cause water quality problems. Time to re-pipe? Give Sweet Plumbing & Heating Corp a call!
Call (781)862-1387 to let us help you with your Plumbing needs.
Lawrence Sweet Plumbing & Heating Corp.
48 Woburn Street • Lexington Ma 02420
Fax: (781) 221-9991